Commercial
A Whole New Game. Thanks for playing
How gaming became the latest sporting frontier for Saudi Arabia, as it looks to one-up the rest of the world in e-sports.
It was not so long ago that online gaming was looked down on by traditional sports. Not any more. These days, the best e-sports players draw salaries and winnings comparable with top footballers. They also attract millions of viewers, both online and, increasingly, in person. And these increasingly large crowds require state-of-the art stadia, as well as teams to play in them.
Never ones to miss out on a futuristic investment opportunity, Saudi investors have been turning to gaming in a big way. Sports is a big part of the country's overall strategy, as proven by its expansive forays into Formula 1, wrestling and golf, as well as its purchase of Newcastle FC. But gaming might be the biggest chance of them all. It is set to be a $6.8bn industry in Saudi Arabia by 2030. Beyond that, the stars are the limit.
"These buildings are showcases not only for the best talent in e-sports, but also a playground for architects and designers, in everything from sound to lighting to acoustics."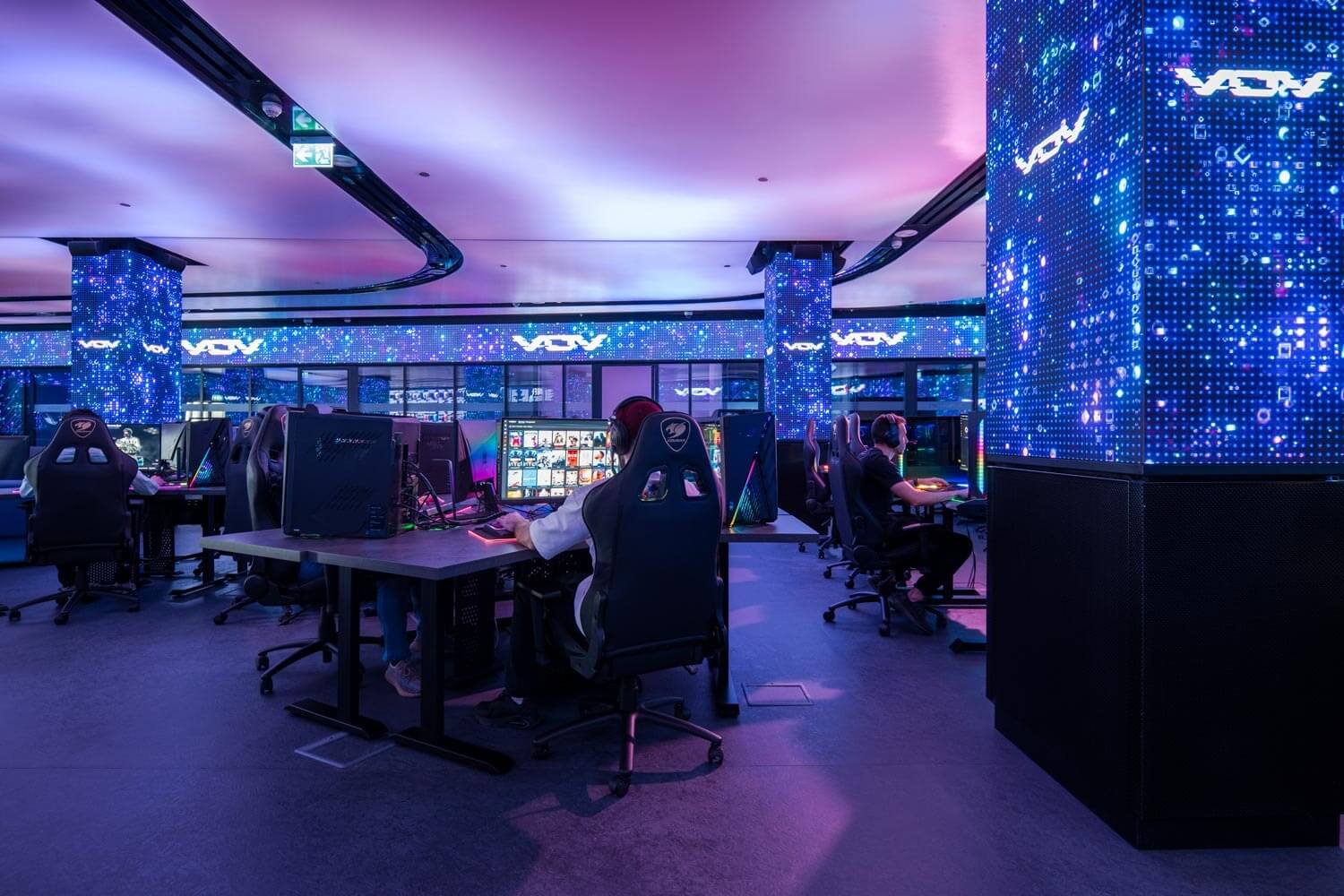 Earlier this year it was announced that the Saudi sovereign wealth fund had launched a gaming arm, Savvy Gaming Group, designed to take advantage of this rapidly expanding field. Their first big act was to buy the Swedish-owned ESL esports group for a reported $1.05bn, and tournament organiser FACEIT for $500m, and merge the two to form the ESL FACEIT Group. In recent years Saudi has also bought stakes in several gaming companies, Activision, which makes Call of Duty, and Take Two, which makes Grand Theft Auto. In May it was reported that they have taken a 5% share of Nintendo.
Meanwhile, e-sports centers are popping up all over the country. These buildings are showcases not only for the best talent in e-sports, but also a playground for architects and designers, in everything from sound to lighting to acoustics. In stadia, as in traditional sports, there is a balance to be struck – ensuring the best conditions for competitors while building a comfortable and atmospheric experience for spectators. It is a thrilling new field, aimed at a generation that doesn't draw the old distinctions between traditional sports and their computerized counterparts. Sports grounds are treasured parts of many cities around the world: who's to say these state-of-the-art facilities will not one day be any less cherished than Lord's or the Maracana? Game on